CDG Furniture Factory
See what our customers say
| | | |
| --- | --- | --- |
| | | |
| "We like the quality and also the most important thing is the packing is good and aslo price is satisfied" | "CDG products are very good quality,perfect for outdoor use, and the models are very very interesting.It's a good seller on Serbia market and also in countries in the region in Montenegro seaside." | "CDG Furniture is a quality supplier and a reliable partner.They have quality items, good service and understand the market." |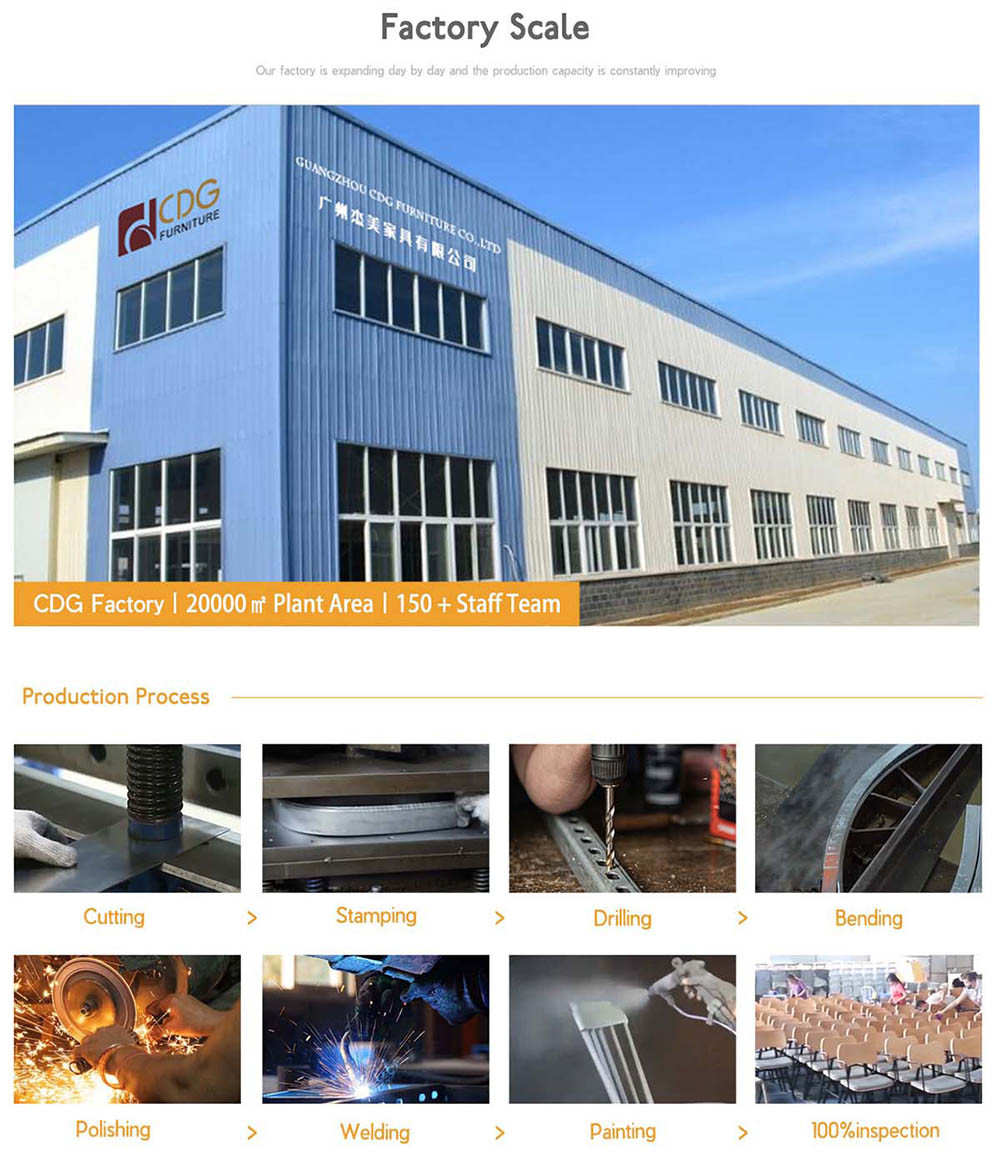 Efficient Production And Professional Team From Our Factory
Whether it is customized production or wholesale conventional bulk production, CDG furniture can use professional production equipment and experienced production teams to control the design style and quality of products for you. We can not only produce metal furniture, wooden, leather, and woven products for you, but also produce them. From processing metal products to painting, coating, and soft package processing, our factory can produce them in a one-stop manner.

Our factory is equipped with professional cutting, bending, welding, spraying, punching, die-casting, and spraying machinery, which can quickly and efficiently complete the production of large quantities of goods. Advanced machinery and experienced workers ensure the quality of large-scale products and increase production capacity, while reducing many troubles in the production process.
In order to improve the efficiency of large-scale production of our commercial furniture, we have adopted a clear division of labor in the main workshops, dividing hardware, wood, upholstery, spraying, and other processes into different experts and work units. With a dedicated team of workers following up on each production process and process, we can save production time, supervise in place, and ensure timely delivery of high-quality furniture to our customers.
Attentive Welding Technology

With the goal of being sturdy, durable, and meticulously crafted products, we have 25 manual welding workers who can quickly and efficiently customize the tables and chairs you need when the products you need have customization requirements and are not mass-produced.

Standard And Safe Polishing Process

Manual polishing and deburring use high-precision tools to complete any furniture component. The advantage of manual polishing is that it is more refined than mechanized, and fine areas must be manually polished to ensure that the product is flawless and allows for long-term use of the furniture.






Craftsmen With Unique Craftsmanship
Mr. Zhang - Deburring Workman

A professional with 16 years of experience in welding furniture hardware products. They possess excellent welding skills and a rigorous work attitude, committed to producing high-quality furniture hardware components. Master various welding technologies, including Arc welding, gas welding and Laser beam welding, to ensure the firm connection and accurate welding of furniture hardware components. He places great emphasis on details and is able to accurately measure and adjust according to design requirements to ensure that the quality and accuracy of each product meet the highest standards.

Mr. Huang - Sample Worker

23 years of work experience in the field of furniture research and development sample manufacturing. He is creative and has outstanding technical abilities. He has extensive knowledge and experience in furniture design and manufacturing, is familiar with various materials and processes, and can transform designer ideas into exquisite furniture samples. He is skilled in using tools and equipment, and can perform precise measurement, cutting, carving, and assembly work. He places great emphasis on details to ensure the quality and perfect presentation of the samples.

Mr. Zhong - Spray Worker

Responsible for dusting and spraying furniture to provide high-quality surface coating protection and decorative effects. He is proficient in various coatings and spraying techniques, including powder coating, spray painting, etc., to ensure the smoothness, uniformity, and durability of furniture surfaces. He is skilled in using spray guns and equipment, and can accurately control the coating thickness and color to meet customer requirements and designer creativity. My colleague is very sensitive to color matching and effects, and can make precise adjustments based on different furniture styles and needs. He has strict requirements for surface treatment and coating quality, and pays attention to details to ensure that the appearance of each furniture meets the highest standards.

Mr. Xue - Factory Director

He plays an important role in the operation of the factory, responsible for supervising and managing all aspects to ensure the safety and efficiency of production operations. He needs to strictly control the raw materials to ensure that their quality meets the standards to ensure the quality during the furniture manufacturing process. They are also responsible for supervising the production process, ensuring that each stage is carried out according to plan, and promptly resolving any production issues. At the same time, he is also responsible for managing the worker team, including recruiting, training, and motivating workers to ensure team collaboration and efficiency. In addition, it is also necessary to pay attention to the safety precautions of the factory, ensure the safety awareness and operating standards of employees, and avoid the occurrence of unexpected events. Plays an important role in material quality, production processes, safety, and team management to ensure the smooth operation and efficient production of the factory.






R & D and Custom Furniture Service
CDG is committed to providing clients with the best custom furniture service in furniture industry. Combining our industry experience, modern manufacturing tools, and skilled craftsmen, we create chairs, tables and other furniture that you can lean on.
Since its establishment, CDG has successfully designed more than 1000 pieces of indoor and outdoor furniture products and continuously innovated to provide more optional colors, materials and styles as well as more occasions for use. Please contact CDG immediately and tell us your needs and budget. We will create products that will surprise you, thus improving your sales and profitability.

We have partnered with many top brands in the industry, such as McDonald's, KFC, Best Buy, Hilton Hotel, Starbucks and so on. Our products sell well in more than 200 countries all over the world, including restaurants, cafe, hotels, attractions, parks and more. Customers who have used our products praise us..


CDG have years of experience in Commercial & Restaurant Furniture wholesale and can provide you with the highest quality solutions based on your specific needs. Come join us in creating a dining space that will leave a lasting impression on your customers!
We specialize in providing the highest quality restaurant and commercial outdoor furniture, whether it's for your, hotel, restaurant or resort. We offer a variety of restaurant furniture, including tables, chairs, and more, all made with high-quality materials, including durable waterproof materials and corrosion-resistant metal frames, ensuring they can withstand outdoor environments for long periods of time. Our design team pays attention to details and strives for a simple, stylish design that complements various outdoor environments.